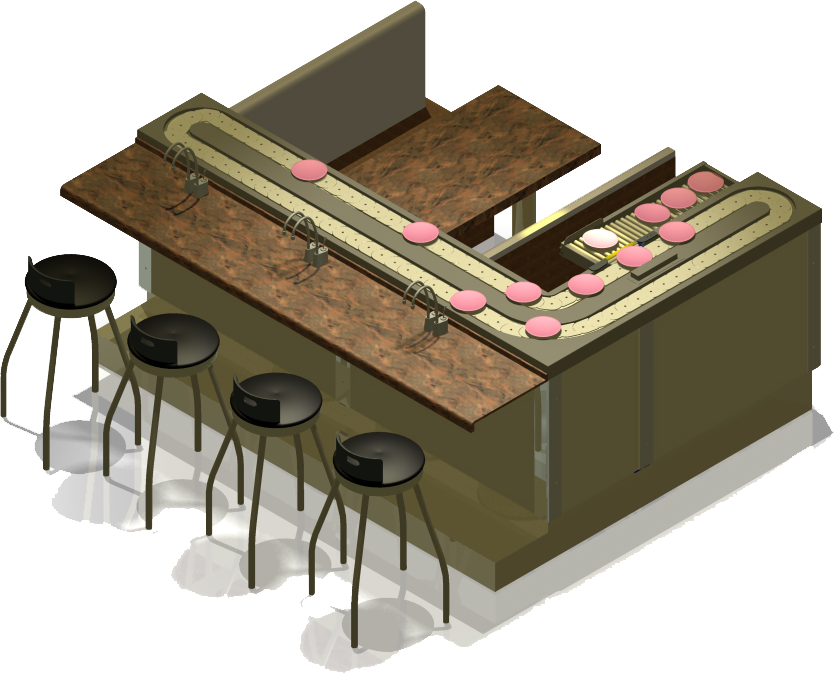 What is it?
It is a monitoring system that keeps track of the time of all the plates on the conveyor system.
How does it track the plates?
Each plate requires a self-adhesive tag to be applied to the bottom service of each plate. The tag is called a RFID "Radio Frequency Identification" tag. The tag has a unique serial number which is read by a receiver module located at the underside of the conveyor system.
Can this system be added at a later date or to an existing Sushi Conveyor System?
Yes, the Freshness System can be added to the system at a later time.
Is this required by my local health department?
Please check with your local health department on requirements but many of our customers have been asked how do they assure that the Sushi on the conveyor is fresh. The Sushi Freshness system can do this for you.
Can I set how long I want the Sushi items to stay on the conveyor before it expires?
The 888 Brands Freshness system allows the user to set any time from 1 minute up to 4 hours before the Sushi item will expire.
Once the Sushi food expires how is it removed?
888 Brands offers 2 types of systems. System one comes with a reject arm that will automatically remove the Sushi plate from the conveyor system. Typical the reject section is set in the kitchen area so the customers do not see the plates being rejected. The second system sets a warning tone and light which allows the kitchen staff to manual remove the plate from the system
How much does it cost?
A basic system without auto reject starts around $12,000, this does not include RFID tags.
What other options are there to assure freshness of my Sushi?
888 Brands also offers an individual timer which is set under each plate. The timer can be set to 1, 2, 3, and 4 hour periods. Once the timer expires the small timer will glow red which notifies the chef that the plate should be removed. Price for each timer is around $38.00.
Every 888 Brands Conveyor and Freshness System meets NSF and UL standards
Video of the automatic reject system
Share: